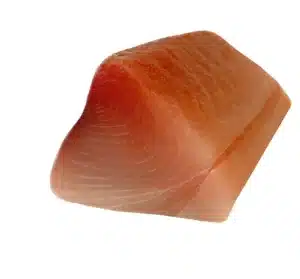 Description:
"Tombo" means dragonfly in Japanese and refers to the very long pectoral fins of the albacore that can equal as much as 30% of the total length. Depending on size, its flesh ranges from whitish-pink to deep pink in color. It's the lightest and mildest in flavor of all tunas.
Habitat:
Tombo is found in open waters of all tropical and temperate oceans. They are a highly migratory species, swimming long distances throughout the ocean. Temperature is a major factor in determining where Pacific albacore live.
Harvesting:
Tombo is seasonally available
in significant quantities, but is scarce in the off-season. The peak in landings usually occurs from May through September.
Nutrition Facts:
Good source of protein
Low in fat and cholesterol
Most omega-3 fatty acids of all tuna species
Texture & Flavor Profile:
Mild, rich taste
Firm, large, moist flakes
Light beige to almost brown, raw
Off-white, cooked
Recommended Cooking Methods:
Grilling, searing, sushi, poke, and ceviche