Retail Chains & Supermarkets
Emphasizing Value by Expanding Capabilities.
One of the fastest growing sectors of our business is our scalable retail packaged products.  Our versatile packaging and labeling along with our extensive research and development provide us the ability to produce many value-added items in our fresh meat, fresh & frozen seafood, and ready-to-eat product lines.  In addition, we are a premier fresh and frozen seafood processor and distributor throughout the Midwest and beyond.
Ready-T0-Eat Products
With the addition of our new 26,000 sq. ft. production facility, we are dedicated to being a leader in the Ready-To-Eat industry. Our automated processes give us a versatile approach without compromising on quality and efficiency. We currently specialize in products like dips, spreads, and salsas but our research and development team continue to expand our offerings based on consumer demands.
High Pressure Processing (HPP)
HPP is a cold pasteurization technique that uses high pressure purified water to eliminate bacteria like listeria, E. coli, and salmonella.  We utilize this process for many of our Ready-To-Eat retail and bulk packaged items.  This all-natural process has many benefits including maintaining freshness, dramatically extending shell-life, and reducing waste.  HPP is a clean label, sustainable solution that increases product efficiencies.
Private Labelling & Co-Packing
With nearly two decades of experience in trusted retail packaged food production, we are uniquely qualified through our know-how and expertise to make your private labeling and co-packing ideas become a reality.  Our expanding line of products to offer this includes dips, salsas, marinades, dressings, packaged proteins, and many others.  Learn more about our private labeling and co-packing capabilities here.
Expanding Capabilities
We have continued to enhance and increase our capabilities to meet and exceed the ever-changing needs of our customers.  The addition of our 26,000 sq. ft. ready-to-eat production facility along with new high performance automated machinery has positioned us to be the most efficient and productive as we possibly can.  Find out more about our meat, seafood, and ready-to-eat capabilities – Click Here
Value-Added Proteins
At Superior, we've become a proven leader when it comes to proteins. It has been a very intentional goal of ours to be the best provider of consistent, high-quality meats and seafood. We have done this through building relationships with vendors that are like-minded in their approach to their product. Our procurement team works hard to make this happen. The result is partnerships with the very best local and national providers of 'center of the plate' items.
Online Ordering
Our online ordering portal allows our customers to opportunity to view current orders and place orders 24 hours a day. In addition, the product catalog provides an easy way to search/view all available products at any time of day. Nothing compares to speaking with one of our District Sales Representatives but we encourage all of our customers to get set up with an online account to give an alternative method of placing orders.
Currently, we distribute to a 5 state area and have partnered distribution centers across 10 states.
We are continually stretching boundaries and venturing into new areas.

Partnered Distribution Centers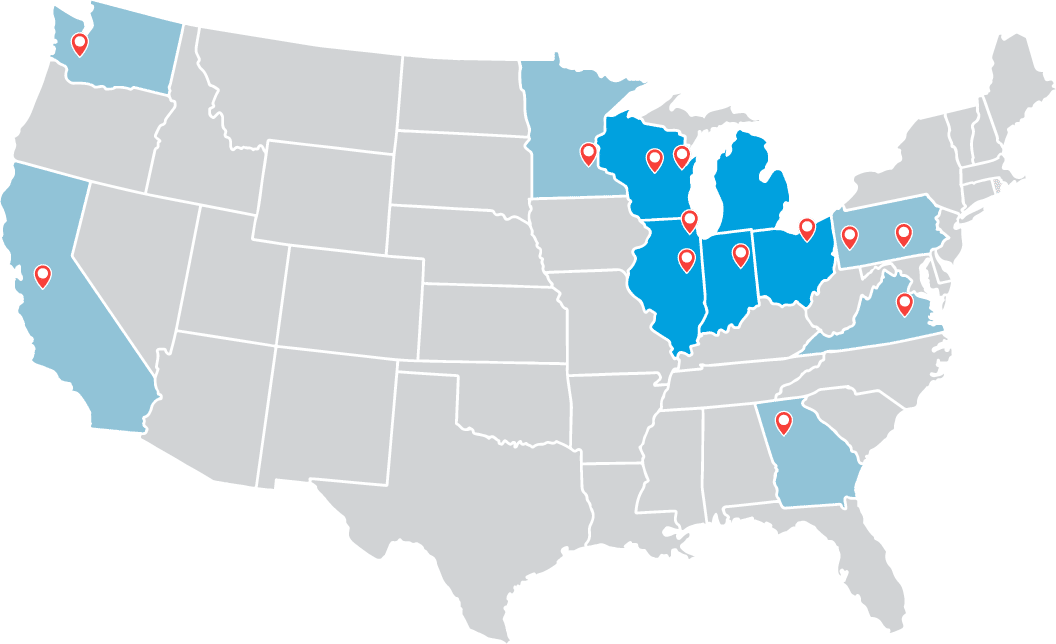 Contact Us
Have questions or want to learn more about our products and services? Connect with us today!
Become A Customer
Fill out our short form to begin the process of becoming a Superior Foods customer.  Let's start the ball rolling!