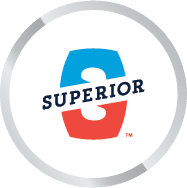 "Our success is our customer's success, if we can make our customers successful, then we've done our job."
– Jim Osterhaven, President/CEO
Who we are…
Superior Foods Company is a 4th generation family-owned food distribution company servicing retailers and restaurants throughout Michigan, Indiana and Ohio.   At our core we operate on a promise to our customers; to do what we say we will do. We not only deliver fresh quality products, Superior offers creative solutions that will meet our customer needs and we are always focused on delivering above standards customer service.
What we are looking for…
We consider our employees the heart of our business. We look for talented, energetic individuals that want to join and grow with our SUPERIOR TEAM.  If you are committed to excellence, a team player, customer first oriented and have a "can do" attitude, please considering applying for one of our open positions.
How to apply
We hire for a variety of roles that range from production positions to sales representatives at Superior Foods.  Below are some of the open positions that we are currently looking to fill.
No current job postings
To apply to a general position here at Superior Foods, download either the English or Spanish version of our application and email it back to us with the subject line "Job Application" to hr@superiorfoods.co.
English Application (Download Now)
Contact Us
Have questions or want to learn more about our products and services? Connect with us today!
Become A Customer
Fill out our short form to begin the process of becoming a Superior Foods customer.  Let's start the ball rolling!