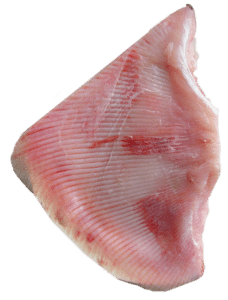 Skate Fillets
Fresh, Skinless, Hand-Cut, Wild-Caught, 4-6 oz.
Product of USA
#64225  1/5 lb.
#64226 1/10 lb.
Available Thursday, October 5, 2023 (while supplies last).
Current Customers - REQUEST TO PURCHASE
Description:
The Northeast skate complex fishery consists of seven species, the primary targets being Winter and Little skates. Winter skates are harvested for their wings for human consumption and little skates are harvested as bait for lobster and other fisheries.
Habitat:
Skates & Rays are a bottom dwelling fish related to the shark family that dwell from inshore to offshore waters on the edge of the continental shelf.
Harvesting:
Skate is mostly harvested incidentally in trawl and gillnet fisheries targeting groundfish, monkfish, and sometimes scallops. Most of the bait fishery occurs in New England waters but they are caught year round from anywhere between Maine and North Carolina.
Nutrition Facts:
Rich source of protein
Low in fat, cholesterol, and sodium
High in vitamin A, calcium, and iron
Texture & Flavor Profile:
Mild pronounced flavor
Firm flesh with high collagen content
Inedible skin
Light beige to pinkish flesh
Recommended Cooking Methods:
Baking, pan-frying, poaching, grilling